For Dog-Eared Page Bookstore owner Catherine Carter, downtown Danville's growth and transformation have been nothing short of inspiring.
Projects under construction in the River District — including the Riverfront Park and the refurbishment of the White Mill building into the Dan River Falls commercial and residential development — have encouraged Carter so much, she plans to greatly expand her book selection and offer additional items at her Main Street business this summer.
"I'm feeling ambitious, that's for sure," said Carter, who opened her independent book store in August 2021.
Business owners downtown are excited about the changes in the city and what they could mean for customer volume, especially in the River District. On top of that, there is also the Danville Casino that opened up Monday in Schoolfield, which is expected to bring thousands of visitors to the city every day.
The Danville Casino is the temporary facility that will operate until the $650 million Caesars Virginia casino/hotel resort opens in late 2024.
Though it was too early to tell what type of impact the arrival of the temporary casino will have on local retailers, The Bee Hotel downtown has already seen an influx of guests and more booked-up nights in recent months.
"We have steadily been selling out or close to it for almost three months now," said hotel's general manager Madison Eades, attributing a lot of the guest volume to casino employees. "Now we are seeing out-of-towners visiting to go to the casino and we expect that to continue."
The urban boutique hotel has 47 rooms.
Anytime The Bee is filled up, Lizzy Lou Boutique owner Sarah Gibson knows it.
"Whenever The Bee is fully booked, we get a lot of traffic from there," Gibson said during an interview at her women's clothing store on Main Street.
Since the fall of 2021, more curious out-of-towners have been coming to her business and other parts of downtown to check out what is happening in Danville, she said. Customers have been dropping in from North Carolina and other parts of Virginia.
"With all the buzz about everything that's coming, we're definitely seeing more traffic," Gibson said.
More money
In recent months, the city has seen record-high local sales- and meals-tax revenues due to increased sales as well as inflation, said Danville Finance Director Michael Adkins.
The city brought in about $1.2 million in sales-tax revenue and about $1 million in meals-tax revenue from sales that occurred in March, Adkins said.
"This was the most ever received in one month [for both sales and meals taxes]," Adkins said. "Obviously, in March, the temporary casino was not open. This was also before the race in Martinsville held April 14-16. The effect of the race weekend will be seen in the city's May collections. So, other than inflation and spring bringing more people out to restaurants and bringing more visitors to the city in March, I can't think of any singular thing that would have caused the increase."
As for lodging-tax revenues, they were weaker in the winter but are performing well this spring, Adkins told Danville City Council during its meeting Tuesday night. Lodging tax receipts in April were more than $250,000, which is rare.
The temporary casino, which opened Monday, is expected to generate $500,000 in gaming-tax revenue for Danville through June 30, which is the end of this fiscal year, Adkins told City Council. However, the city could receive more than that, he added.
As for store sales, Vintages by the Dan co-owner Robin Jones said she has not yet seen casino customers at her business. But sales have increased since the beginning of 2023, she said.
"In general, we've had a good 2023 so far," Jones said, adding that Vintages had a 15% increase in customer volume the first quarter of this year. The Main Street establishment sells wine, craft beer and gift items.
More people are coming in from out of town, from such places as Durham, North Carolina, and other areas, Jones said.
"The Bee Hotel … they've been wonderful about referring people to us," she said.
Nearby Virginia International Raceway and the Riverwalk Trail, as well as businesses including breweries and event places like Cottontail, have also been drawing visitors here, she said.
Besides casino employees and patrons, The Bee has also attracted travel dentists and doctors as well as guests and representatives of companies including AeroFarms and Tyson Foods, Eades said.
"We accommodate long-term guests in our apartment-style suites that include full kitchens, so people traveling in to work on many different projects in the area enjoy staying with us," Eades said. "Our location and accommodations are unmatched."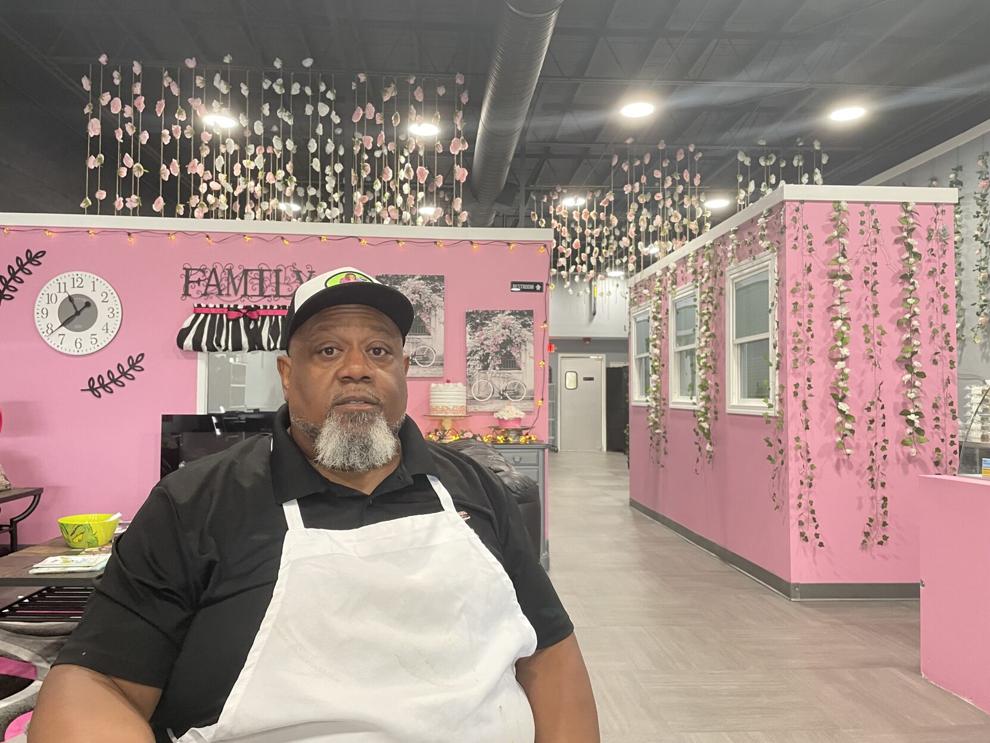 Charles Walker, who owns Ma's Cakes with his wife, Annette, said the casino is "bringing a little diversity to what's been the norm" in Danville. How it will affect downtown businesses remains to be seen.
"It's just according to how people respond to it, the impact it will make," Walker said, adding that Danville has never been a tourist town.
Ma's Cakes which opened in late February 2022, had strong sales January and February this year, and this past March was a good month, too, Walker said.
'More to see and do'
With the Riverfront Park and Dan River Falls projects being built, as well as the recent opening of VANTAGE Art Flats — Rick Barker's art-and-history themed Airbnb project on Craghead Street — "there's more here to see and do," Walker said.
"There's a lot that's happening right down here," Walker said.
Susan Moss, owner at Moss Mountain Outfitters on Main Street, said she was "super-optimistic" about the foot traffic the River District has drawn.
"It's exciting to see folks from out of town," Moss said.
However, she said she was "cautiously optimistic" about the volume of customers the casino could possibly bring downtown.
"It's too early to tell with the temporary casino," Moss said, adding that the opening of the casino hotel in late 2024 and the White Mill refurbishment will likely result in more downtown visitors.
Carter said she has seen a noticeable increase in sales at her bookstore, but she is not sure whether it can be attributed to the casino. Whether more customers will trickle into her establishment as a result of the gaming facility is uncertain.
"I'm trying to be cautiously optimistic," Carter said, adding that she is excited about her upcoming expansion that will include more books and other items such as puzzles, games, book marks and t-shirts.
With the multitude of projects under way in the city, Gibson is bullish on downtown Danville.
"We feel like there's nowhere to go but up," she said.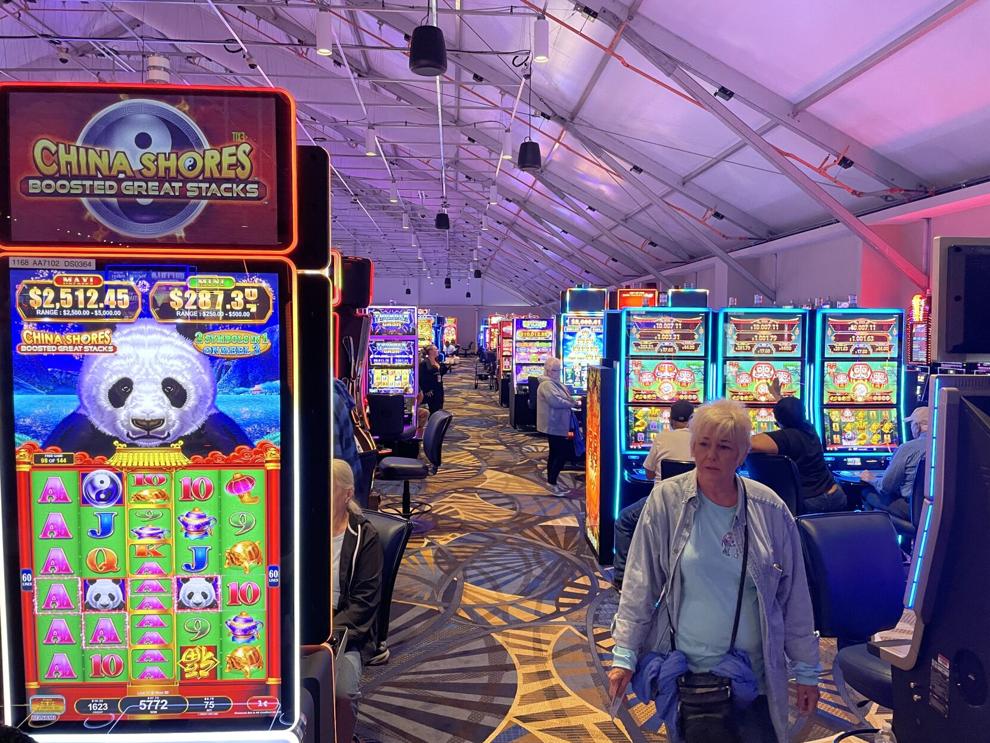 One incident
Since its opening Monday, there has been one reported incident at the Danville Casino.
On opening day, a 67-year-old man at the casino had his wallet stolen, said Danville Police Department spokesman Matt Bell. During the early morning hours of the next day, an attempted use of a credit card led to the arrest of 24-year-old Danville resident Edward Eugene Harville III.
Harville has been charged with credit card fraud and more charges are pending while the investigation continues, Bell said.
"We were able to quickly wrap up this case because of tips provided to the police department from the community," he said.
Bell did not know how the wallet was stolen.
However, he did say there have been no reported violent incidents at the casino so far and that traffic has been normal.
Crime can happen anywhere and it's important to be aware of surroundings and to lock valuables in your car no matter where you go, Bell said.
"We're [police] prepared and we're ready for anything that may occur, whether it's at the casino or any other place of business in the city of Danville," he said.