GSK Q2 2023 Earnings Overview
GSK (NYSE:GSK), the $73bn market cap (at the time of writing), United Kingdom based Pharma giant announced its Q223 and H123 results today.
The company's share price performance has been flat for the best part of 25 years, with (American Depositary Receipt) shares trading today at a value of $36 – the same price as in 1997! On the plus side, GSK's dividend yield of >4% per annum is above average for the Big Pharma sector.
The company may be best known for its consumer health division, marketing and selling well-known brand names such as Sensodyne, Panadol, Advil, Voltaren Theraflu, Otrivin, and Centrum, but this division – a joint venture with US Pharma giant Pfizer (PFE) (with GSK holding a majority 68% stake) was spun out in July last year. Whilst Haleon stock has performed adequately since the spinout, GSK's ADRs fell in value from ~$42, to <$30 after the split.
Nevertheless, there were some positives to be taken from the slimmed down businesses' Q223 performance, as shown below in this overview taken from GSK's earnings presentation.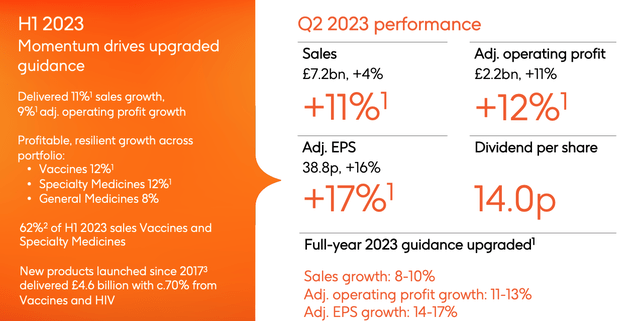 Overall revenues were up 11% year-on-year discounting COVID sales and, 4% year-on-year including COVID sales. GSK's Xevudy (sotrovimab), an anti-spike protein antibody co-developed with Vir Biotechnology (VIR), earned £2.3bn of revenues in FY22, but is no longer authorised in the US, being ineffective against newer strains of the virus and may have made its last sale.
Xevudy aside, however, GSK's 3 main business divisions – Vaccines, Specialty Medicines, and General Medicines, grew revenues by respectively 15%, 12% and 8% year-on-year, whilst (again ex-COVID), sales in the US, Europe, and Other regions grew by respectively 8%, 12%, and 17%.
GSK became significantly more profitable, delivering earnings per share of £0.388 pence. Pre-tax profit was £1.99bn, nearly twice the £896m figure from Q122, although adjusted operating profit only rose from £2.17bn in Q122, to £2bn last quarter.
Perhaps most importantly, GSK raised its FY23 guidance, now projecting 8-10% sales growth, and adjusted EPS growth of 14-17%.
More Reasons To Be Positive? Growth Promised, Although It May Not Be Quite What It Seems
GSK's CEO Emma Walmsley has been under severe pressure since her appointment in 2017, with the activist investor Eliott Capital Management questioning whether her background in Consumer Health was appropriate for someone leading a company now more focused on prescription drugs, and drug development.
Walmsley sounded a bullish note on the earnings call with analysts, however, not only underlining 2023 guidance, but offering some ambitious longer-term forecasts. Walmsley told analysts:
For 2023, we now expect to deliver sales growth of 8% to 10% and adjusted operating profit growth of 11% to 13%. For 2026, we expect to deliver sales of more than 5% and adjusted operations profit of more than 10% on a CAGR basis. And by 2031, we're confident we will have effectively absorbed any impact from the loss of exclusivity across the portfolio to deliver our stated ambition of more than £33 billion in sales.

We know this ambition is significantly higher than current market expectations. And over the next year, we'll continue to bring you more clarity and specificity on our building blocks to deliver profitable results through a series of media management events, data readouts and a more comprehensive update against our 2021 long-term plan.
Even after its spin out, GSK markets and sells a larger number of drugs than most Pharmas. For example, in its 2022 20F submission, the HIV division lists 7 major products, led by the dolutegravir products Tivicay, Triumeq, Juluca, and Dovato. The division earned £5.75bn in FY22.
Oncology is a small division, with only 3 products – Zejula, Blenrep and recently approved Jemperli driving £602m of revenues last year. There are 2 immuno-inflammatory products, Benlysta and Nucala, driving a combined $2.6bn of revenues in FY22, 2 meningitis drugs, Bexsero and Menveo, driving £1.1bn of revenues, and a single influenza drug, Fluarix, driving £714m of sales last year. Shingrix – indicated for Shingles, drove £2.96bn of revenues.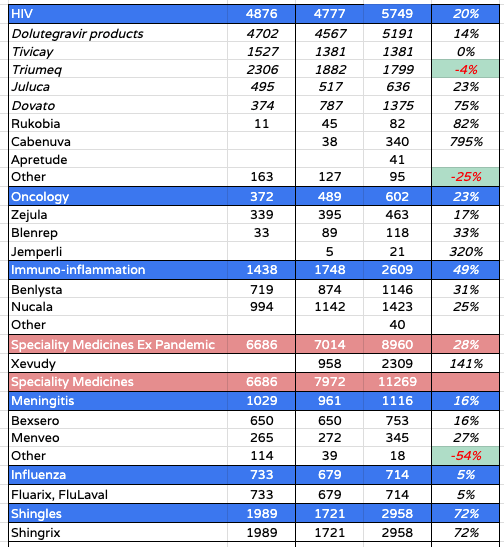 Moving on, within Established vaccines there are 7 products – $3bn of revenues in 2022, and 9 respiratory vaccines, driving £6.6bn. Finally, three general medicines, augmentin, avodart, and lamictal, were responsible for $3.6bn of revenues in FY22.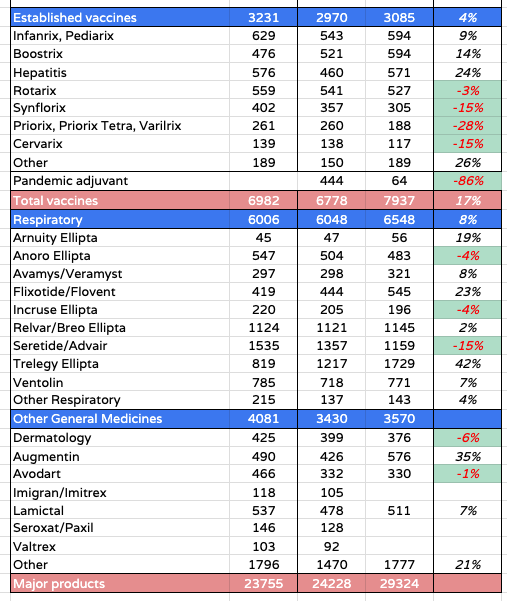 In short, GSK has a very large and diverse set of products, and although the promised 5% CAGR growth may sound impressive, the issue that many of its drugs – particularly within its large HIV division e.g. Cabenuva, Triumeq, and its respiratory division i.e. Relvar – are set to lose their patent protection by 2027 – even Shingrix' patents expire in 2029. Patent expired products usually experience revenue declines of at least 25% per annum, hence the $33bn of revenues by 2031 does not apparently reflect long term 5% CAGR, but actually, after 2026, more like treading water, whilst fighting fires.
Pipeline Updates – Like The Current Portfolio, It Is Large, & Cluttered?
Given that so many key products seem to be facing patent expiration issues (a full list is available in the 2022 20F submission), it is seemingly a good thing that GSK is ramping up its R&D spending, which was £1.34bn in Q223, and $2.6bn for 1H23, or 18% of adjusted sales overall. The company says it has increased R&D spending in 2023, although the figure was ~$5bn in 2022, according to its annual report.
Either way, GSK did secure a notable win after its RSV vaccine Arexvy was approved in May, for adults over the age of 60, based on data showing it was ~83% effective at preventing RSV-related lower respiratory tract disease. The shot is expected to be priced at ~$270 – $295 per dose in the US, and could achieve peak annual sales of ~£3bn, although both Pfizer and Moderna (MRNA) have rival vaccines more-or-less at the product approval stage. RSV is forecast to become a ~$9bn market by 2030.

As we can see above, GSK boasts that it has 68 products in clinical development, although in my view at least, this somewhat mirrors the current product portfolio – very large and diverse, and perhaps too much so – I would rather see 5-10 slam dunk, blockbuster (>$1bn revenues per annum) approval shots, than 68 speculative ones – slimming down the pipeline could even save the company some R&D expenses, and make it more profitable.
With that said, long acting cabotegravir is an exciting prospect in HIV – a potential blockbuster, although it will contest market share with Gilead Sciences' (GILD) lenacapavir. Gilead is the arch HIV rival to GSK, although that has not prevented analysts from suggesting GSK's HIV division can grow substantially by 2026 – although there will likely be several patent expiries the following year. One step forward, one step back.
GSK recently paid $2bn to acquire Sierra Oncology and its lead asset momelotinib – I posted on the acquisition at the time, suggesting it was a good deal for GSK and that peak sales of $1.7bn had been forecast for the drug, although that is by no means guaranteed, and other analysts have suggested a much lower figure of ~$600m by 2031. The drug is designed to treat patients with MF who also suffer with anemia – a side effect of patients being treated with JAK inhibitors – however the FDA has delayed its approval decision by 3 months, to September this year.
There are more pipeline – or recently approved – assets for investors to salivate over – Blenrep in multiple myeloma, Jemperli, in endometrial cancer, Zejula, in ovarian cancer, otilimab, in rheumatoid arthritis, and depemokimab in asthma could help the company add ~£10bn to its top line by the end of the decade. GSK itself has suggested it can drive £20bn of additional revenues,
Concluding Thoughts – A Solid Quarter Of Growth & A Solidifying Outlook – May Even Offer Some Share Price Upside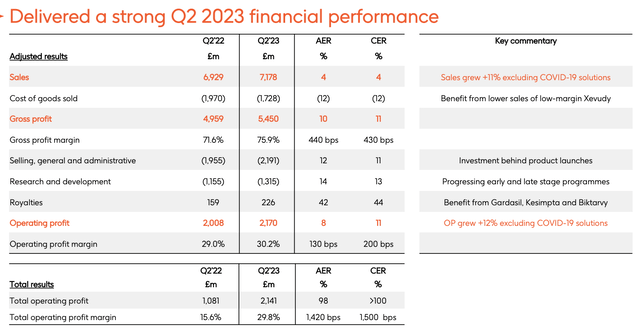 As we can see above, GSK has delivered a solid quarter of performance, outperforming analysts expectations across most measures, and driven by strong performances from the likes of shingles powerhouse shingrix – sales were up 20%, to £880m, established vaccines, up 13% to £812m, and new HIV drugs like Cabenuva, and Dovato – £430m of sales, up 34% year-on-year.
Meanwhile, the Arexvy is a solid win against RSV vaccine rivals, and the pipeline has delivered approvals for Blenrep, Zejula, and perhaps this year, momelotinib.
Balanced against that, it is hard to make direct comparisons against the prior year owing to the Haleon spinout, and it may take a few more quarters to tease out the realities of margin performance, operating expenses, success of R&D expenditure etc etc. Plus, the GSK of 7 years' time will be very different to the GSK of today, with many of today's biggest revenue drivers losing patent protection, and a promised £20bn of new product revenues arriving – from among some >65 products in clinical development.
We know that CEO Walmsley has been under pressure, and GSK's 5-year share price performance – down 15% (for the ADRs) – is underwhelming – the likes of AbbVie, Merck, Johnson & Johnson and Amgen have driven strong growth across the same period, whilst the likes of Eli Lilly (LLY) and Novo Nordisk (NVO) have driven gains of >200%.
Even with the decoupling of the consumer health division – following in the footsteps of Merck, Pfizer, and Johnson & Johnson – and the renewed focus on R&D and new drug launches, it still feels as though GSK is playing catchup to an extent, and could do with trimming its product portfolio and its pipeline.
As such, it is hard to make the bull case for GSK given that firstly, its share price is almost completely resistant to any volatility, to the upside or the downside, and long term or short (other than after the Haleon spinout), and given the uncertainty about how to value the company and assess performance today, and what GSK may look like in 5-10 years' time.
I will conclude by saying that after this Q223 earnings review I would be quietly optimistic about GSK's chances going forward, as I think there is an obvious and genuine commitment to altering the way the company operates, and some of the areas it focuses upon.
To paraphrase the great Humphrey Bogart, it could even be the case that, if you don't buy some GSK stock today, you might regret it. Maybe not today…maybe not tomorrow, but some day!GSK Q