In 1903, the world was full of innovations.
Henry Ford was in the process of founding his new Ford Motor Company. The Wright brothers were testing out a new machine they hoped would fly. Madame Curie won a Nobel Prize for her work in physics, and Boston won the very first World Series over Pittsburgh. 
Closer to home, a man named John Weidman purchased a private Mount Pleasant bank headquartered at the intersection of University Street and Broadway, and Isabella Bank was born.
That was 120 years ago. 
A historical image of Isabella Bank's original branch in the 1900s, located at E. Broadway in Downtown Mt. Pleasant. (Photo courtesy of Isabella Bank)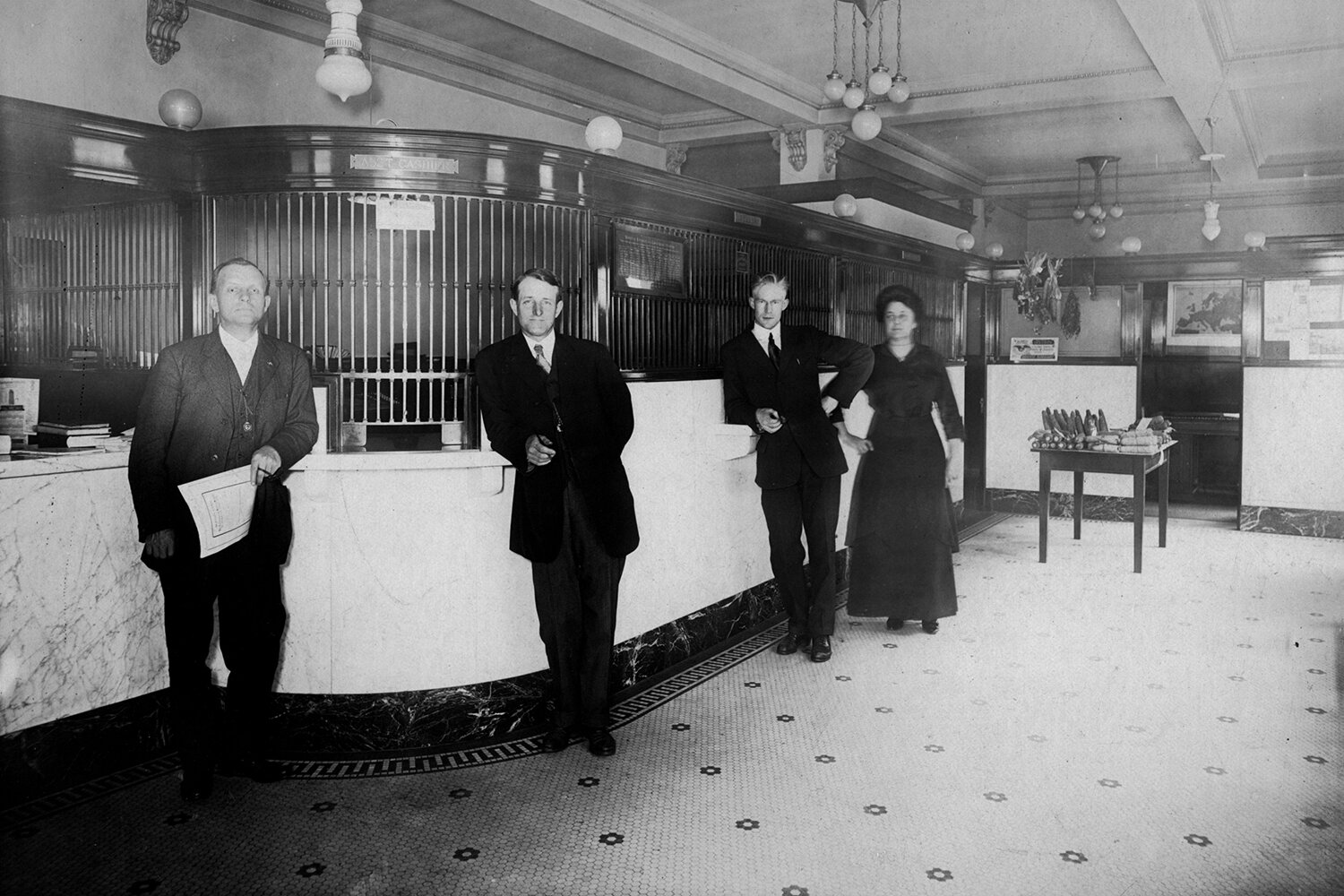 A historical image of Isabella Bank's original branch employees in the 1900s, located at E. Broadway in Downtown Mt. Pleasant. (Photo courtesy of Isabella Bank)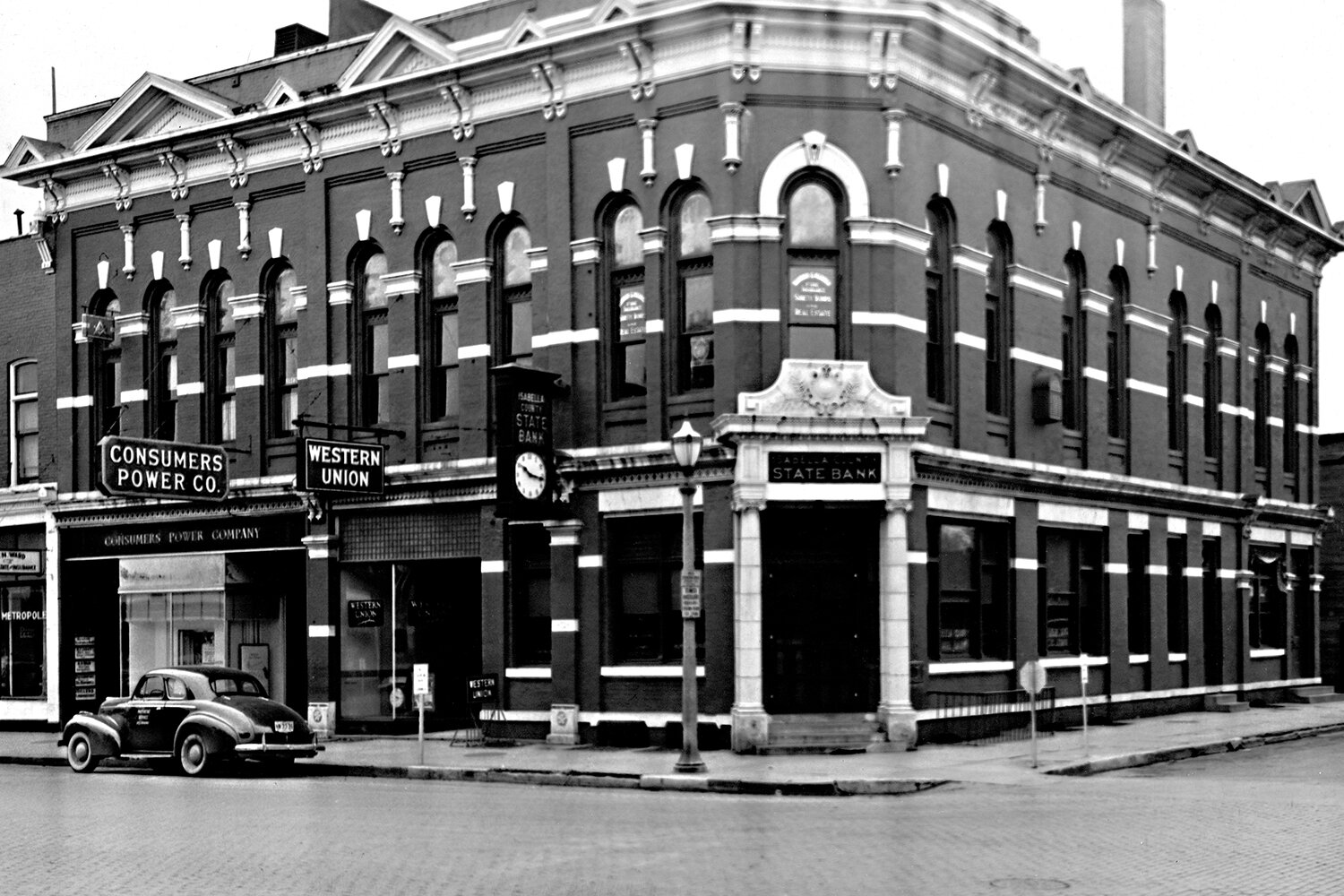 A historical image of Isabella Bank's original branch in the 1900s, located at E. Broadway in Downtown Mt. Pleasant. (Photo courtesy of Isabella Bank)Today, Isabella Bank serves seven counties across central Michigan, including Mecosta, Montcalm, Isabella, Gratiot, Midland, Clare and Saginaw counties—with an eighth county joining the ranks as a new office in Bay City comes online soon. 
Jerome Schwind has been a part of the organization since 1999, when he started as a commercial loan officer.
"The key reason I came to Isabella Bank was based solely on reputation of the bank," he explains. "I didn't know anybody here. It was solely reputation."
After serving in a variety of roles over the years, now Schwind serves as the Bank president and is set to take on the role of CEO in January. He says the same reputation that drew him to the organization back at the start of his career is the same one he works to support every day.
"The reputation is one of a true community bank, one that the people work here, live and do business in the communities that we serve," Schwind notes. "This is our home; this is where we provide our service. These are the communities that we take care of."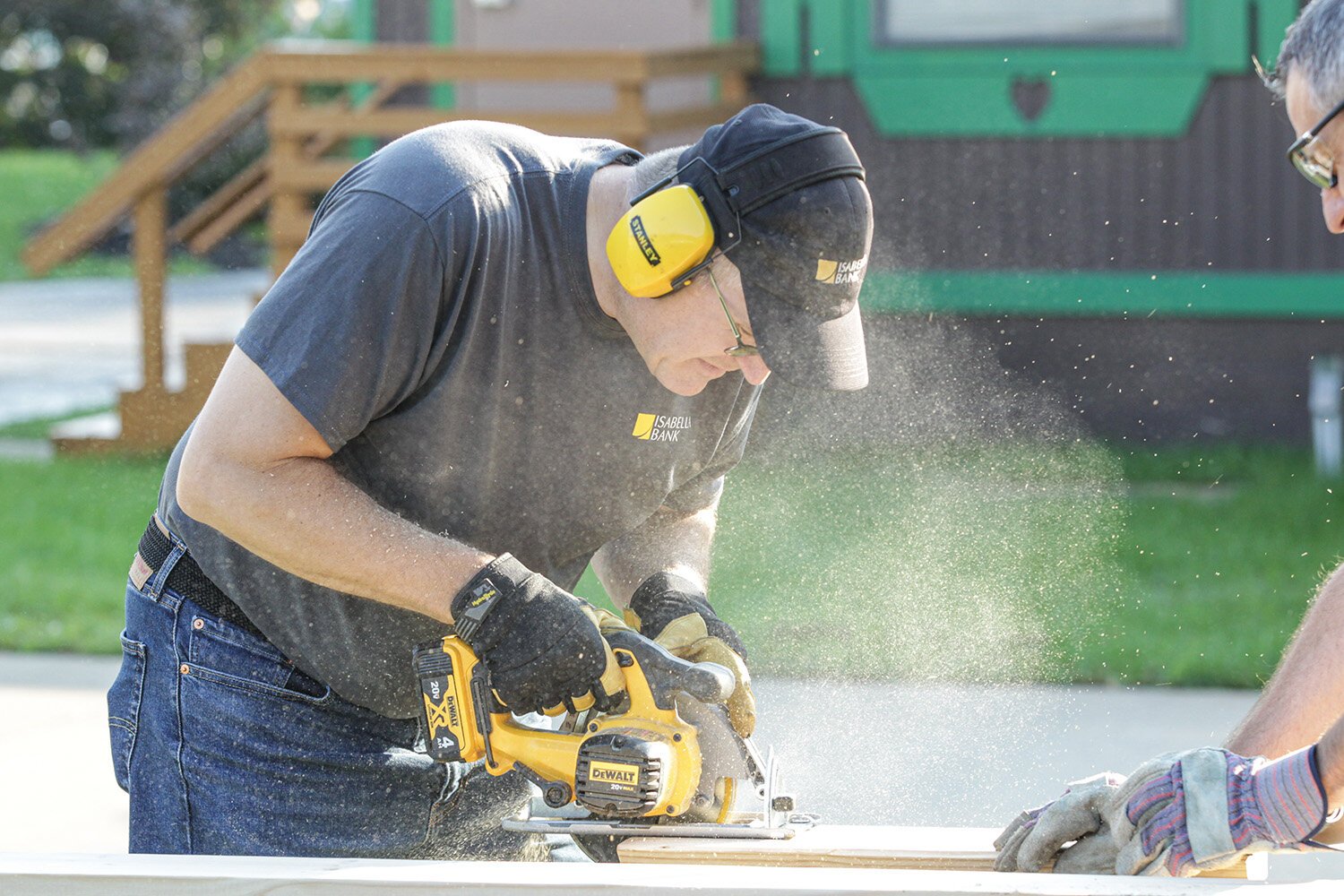 Jerome Schwind, Isabella Bank President, helps out at the Compassion in Action event in 2021. (Photo courtesy of Isabella Bank)Aside from individual and business customer banking, Isabella Bank also offers financial planning services such as tax planning, life insurance options, and estate planning. They also offer access to financial literacy training for kids and young adults, and tips for maintaining online security and avoiding scams.
And Schwind says that investing in the communities they serve doesn't stop there. 
"We tend to be involved in the organizations that support the communities' economic development—the wellbeing of the people that live here. And that is sometimes writing a check, sometimes our time, sometimes our talent; so oftentimes, all three of those."
"You'll find Isabella Bankers across our footprint," he adds. "Serving on various boards, economic development organizations, chambers on and on; philanthropically, serving on foundations and the like because we're all dedicated to making our community better and serving those needs."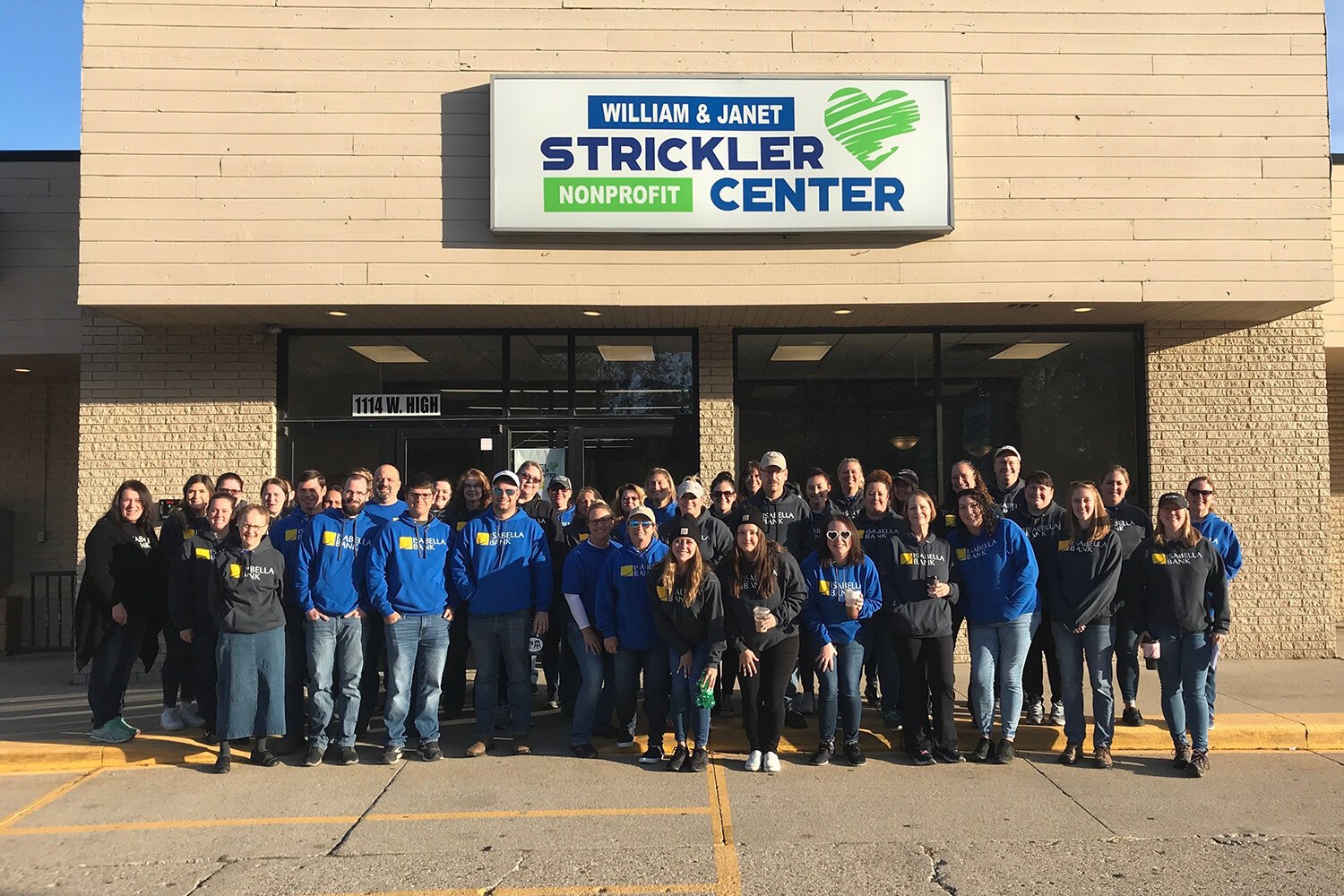 Isabella Bank team members volunteer at Mt. Pleasant's Strickler Center during the Compassion into Action event in 2022. (Photo courtesy of Isabella Bank)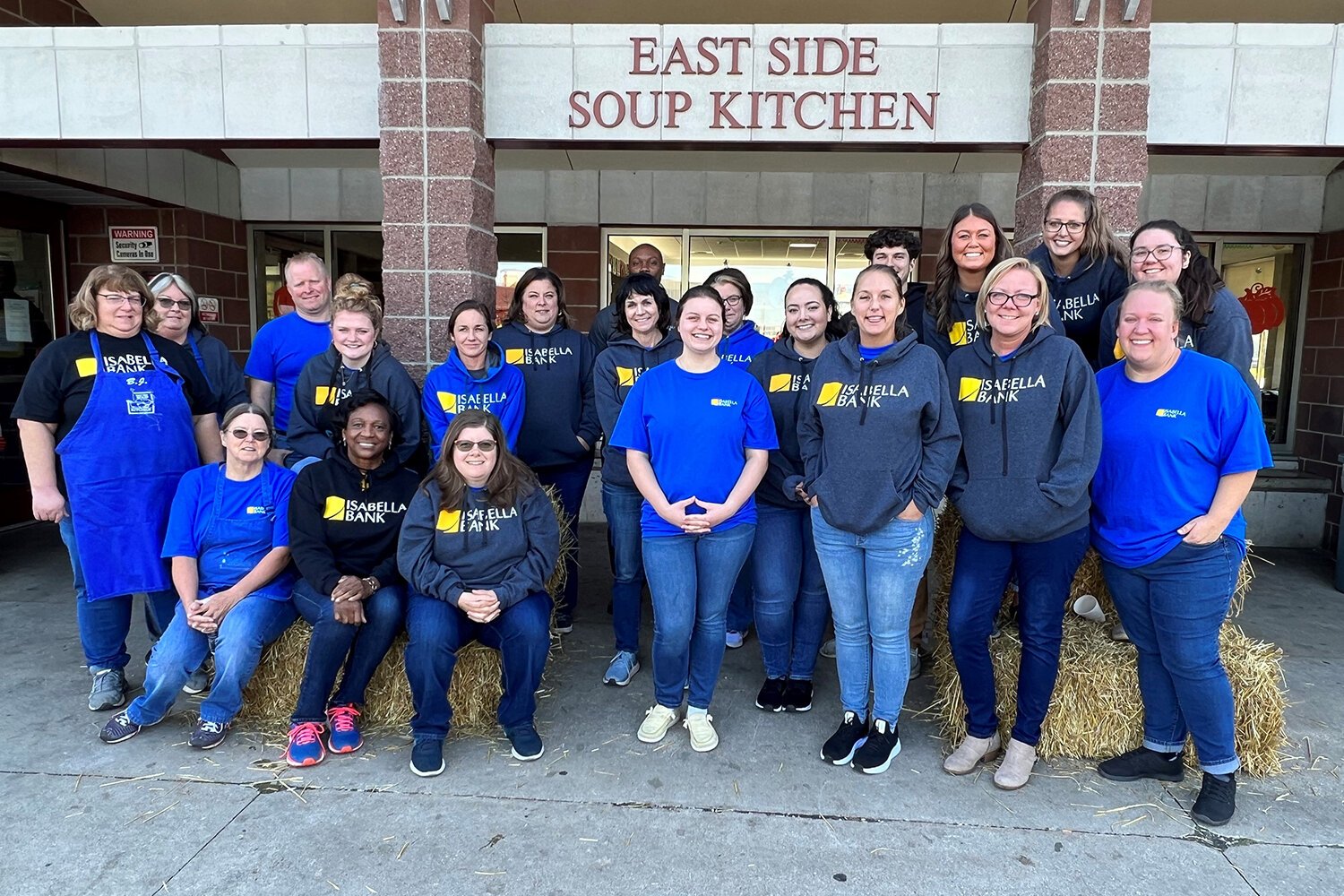 Isabella Bank team members volunteer at Saginaw's East Side Soup Kitchen during the Compassion into Action event in 2022. (Photo courtesy of Isabella Bank)Schwind says, ultimately, a good bank is about building connections with people.
"We are a business that is strongest when we build relationships with our client base," he says. "I would give people in the community the advice to start and build a relationship with a banker." 
"I, of course, am biased to this bank," he says with a laugh, but adds that good banks are invaluable resources for their customers when financial needs are at extremes.
"A bank is here to bridge that gap however it comes," Schwind explains. "So, our customers come in either with too much money and need a place to put it, or with not enough money and need to borrow it. And so we provide those avenues."
"Our role is to make sure that people aren't fixated on their finances if they know where they can go and get them taken care of," he continues. "They shouldn't be worried about their banking. Our purpose is to make it easier for people to do business."
"Most people think of bankers as 'those are those cold-hearted stuffed shirts, and they care only about money and only about profit and they don't care about us.' And it couldn't be farther from the truth," Schwind adds. "In reality, the people that come to work at a bank do so because we care about people."
Schwind says that in retrospect, yes, the world has changed dramatically since Isabella Bank was founded in 1903, but that hasn't stopped the organization from carrying on with its mission.
"While delivery channels for our services have evolved and changed over the years, the fundamentals of what we do have not," he says. "We've been a community bank for the whole 120 years … It all stems from the need to provide services that are best for the community. That hasn't changed in 120 years, and I doubt it will in the next 120 years."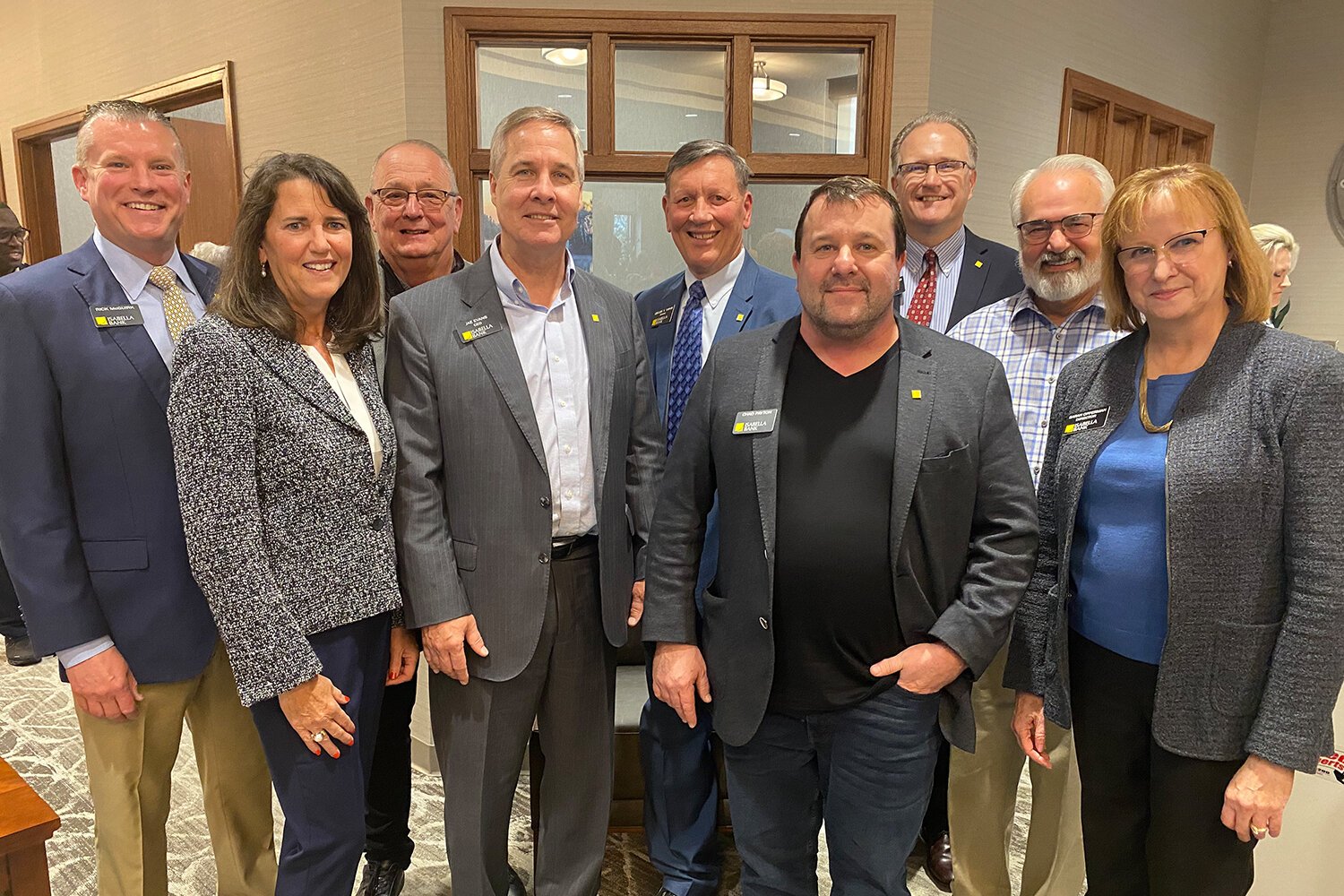 Isabella Bank's Board of Directors celebrates the State Street Saginaw Branch opening during a ribbon cutting ceremony in May 2023. (Photo courtesy of Isabella Bank)In fact, new technology and innovation will continue to be a key component as the organization looks forward.
"I couldn't be more excited about the future of banking and this bank," Schwind says. "There have been articles in the news over the last several years predicting the demise of community banks and the like. What was missed in that thought process were the economies that come from advancements in technology—which means it allows us to offer the same services only through our way of doing so, giving us a competitive advantage than the larger banks because we have the relationships to go with the technology that our customer base seeks." 
"When I couple that with a management team and these employees that we have at Isabella Bank," he adds, "I can't help but to be excited about the future. I have no doubt in my mind we will be here for an extended period of time, as long as we never forget what the fundamentals of being a community bank are in the communities we serve."
"It is an honor to work for this 120-year-old organization," Schwind concludes. "There's no doubt about it. It's an honor to get to work with everyone I get to work with every day. I get to live this. You know what I mean? And it is quite humbling to be tapped to take over in our succession planning moving forward."
"I'm most proud of the team at Isabella Bank and our culture of working as a team," he adds. "Any success that we've enjoyed has been based on the collective efforts of the roughly 400 people here at the bank that have to do what we do every day consistently over the course of the last 120 years. We're here because of our communities. We've had the support of our communities. People that have chosen to bank with Isabella Bank are choosing to support what we're about. And that's what I'm most proud of."
To learn more about Isabella Bank, their history, and plans to commemorate the organization's 120-year anniversary, visit their website.