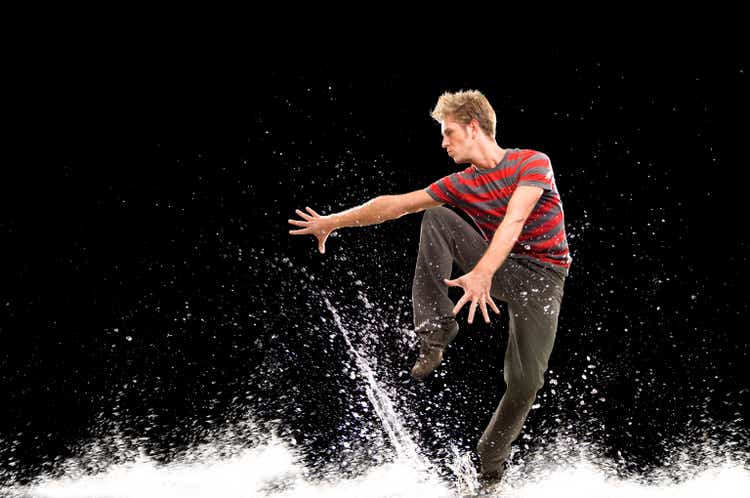 Investment Overview
It has been nearly three years since I last covered Jazz Pharmaceuticals (NASDAQ:JAZZ) for Seeking Alpha – I gave the company's stock a "buy" rating in July 2020, and shares have gained 25% in the intervening period.
Jazz is a commercial stage pharmaceutical company domiciled in Ireland and therefore benefiting from the country's lower tax rate of 12.5% (although the rate is likely to increase to 15% after 2023), and its twin focuses are Neuroscience and Oncology. As I wrote in my last note:
Jazz struck gold back in 2005 when it acquired the biotech Orphan Medical – which had won approval for its sodium oxybate treatment for narcolepsy – Xyrem – in a deal worth ~$125m in 2005. Xyrem has gone on to make blockbuster sales for Jazz, growing its sales by double-digit figures in almost every year.

Sales of the drug – which remains the only FDA approved treatment for cataplexy and excessive daytime sleepiness ("EDS") – were $1.2bn, $1.4bn, and $1.64bn in 2017, 2018 and 2019 respectively, according to Jazz's 2019 10K submission – which represents around 75% of all the company's revenues.
I noted however that Xyrem was set to lose its patent exclusivity and sales of the drug would likely fall as a result, and that Avadel Pharmaceuticals (AVDL) was working on an extended-release sodium oxybate formulation that could provide an additional challenge to Xyrem's market share, and requires a single night-time, rather than the twice nightly dosing of Xyrem.
Fast forward three years and Xyrem remains a blockbuster (sales >$1bn per annum) product for Jazz, generating $1.7bn of sales in 2020, $1.3bn in 2021, and $1.02bn in 2022. Furthermore, in July 2020, Jazz secured approval for a low-sodium version of Xyrem, marketed and sold as Xywav, that earned $535m of revenues in 2021, and $958m in 2022 – up 79% year-on-year.
The performance of Xyrem and Xywav has helped Jazz grow revenues from $2.6bn in FY20, to $3.7bn in FY22, however having generated positive net income in every year from 2013 – $216m – to 2020 – $239m, Jazz' losses were $(330m), and $(224m) in FY21 and FY22, respectively.
Total neuroscience revenues in FY22 were $2.76bn, thanks to sales of Xyrem and Xywav, and also Epidiolex – a cannabinoid seizure treatment that Jazz acquired via its $7.6bn buyout of GW Pharmaceuticals. The drug earned $736m of revenues in FY22 – up 59% year-on-year.
As we can see above, the oncology division accounts for ~24% of Jazz's revenues, led by Zepzelca – approved in June 2020 to treat metastatic small cell lung cancer ("SCLC") which earned $269m of revenues last year, and Rylaze, used in combo with chemotherapies in various types of lymphoma, and earning $282m of revenues last year, supported by leukemia therapy Vyxeos and Defiteleo, approved for the treatment of hepatic veno-occlusive disease ("VOD"), with renal or pulmonary dysfunction following hematopoietic stem cell transplantation ("HSCT").
Announcing its Q422 and FY22 earnings, Jazz also shared 2023 guidance as follows:
2023 total revenue guidance of $3,675 to $3,875 million, 3% growth at the mid-point.
Total revenue guidance is underpinned by expectations of continued growth in net sales of Xywav, Epidiolex/Epidyolex and the oncology portfolio, a continued decline in net sales of Xyrem and royalties on net sales of Authorized Generics of Xyrem.
In its latest corporate presentation JAZZ adds some more color – the Neuroscience division is expected to generate $2.675bn – $2.825bn, and the oncology division $950m – $1.05bn, while SG&A and R&D costs are expected to be $1.075bn and $700m respectively (at the midpoint), resulting in net income of $1.24bn – $1.31bn on an adjusted basis and net income per share of ~$17.4, which translates to a price to NI ratio of ~8x – a low figure that implies Jazz shares may be undervalued at present.
In its latest investor presentation Jazz also details its VISION 2025 strategy to generate $5bn in revenue in 2025, and launch five more products into new markets by 2030. It's generally a good sign when management shares details around its long-term planning, although within the pharmaceuticals industry most products either lose their market exclusivity or are sidelined by better drugs within a decade, so a company must continually find new therapies to replace old ones if its wants to grow – not easy in a sector as hit and miss as drug development.
That may help to explain why Jazz's share price generally lacks momentum, and why shares are trading at a 6% discount over five years, and a 13% discount across this year to date.
Based on forward revenue guidance for ~$3.8bn, and current market cap of $8.9bn – for context, Boston based Pharma Vertex (VRTX) generated $8.9bn of revenues in 2022, which is 2.4x Jazz' performance, yet Vertex' market cap is $88bn, which is 10x larger than Jazz' – you could certainly make the case that Jazz stock is a strong buy opportunity, but balanced against that are the challenges of maintaining long term growth by launching new products or developing existing ones – in short, which of Jazz's drugs have their peak sales ahead of them, which have theirs' behind them, and will Jazz' pipeline products earn as much as their predecessors?
In the remainder of this post I will take a look at management's plans, plus the challenges it faces, and offer some concluding thoughts about Jazz as an investment opportunity. Remember, Jazz currently pays no dividend, so share price upside – or potentially stock buybacks – are the only ways an investor can make money from investing in Jazz stock.
Vision 2025 and Beyond In Focus – Jazz' Plans To Future-Proof Its Business
Jazz $5bn revenue target for 2025 is broken down above, and it's reliant on the continued success of the oxybate (Xyrem and Xyway), plus more growth from Epidiolex, with support from an oncology franchise that does not seem to be expected to grow or shrink in the coming years.
While Jazz is no longer as heavily reliant on oxybate as it was back in 2020, we can see above that its contribution remains central to management's plans. The company has fought off generic competition for Xylem – up to nine generic drug manufacturers have filed Abbreviated New Drug Applications ("ANDAs") with the FDA – but statements in the 2022 10K submission seem to suggest that some of these generic drugs will enter the market for the first time this year, with several more joining in 2025. I will certainly be interesting to see whether growing sales of Xywav can offset the continuing falling sales of Xyrem.
Xywav – management told analysts on the Q422 earnings call – has patent protection until 2027 in narcolepsy, and 2028 in Idiopathic hypersomnia ("IH"), but will seemingly face a direct challenge from Avadel Pharmaceuticals newly approved Lumryz.
The obvious benefit of Lumryz is that it requires a once-nightly dose only – patients taking Xywav must take a dose before bedtime and then another a couple of hours later, which must be highly inconvenient for anyone who has trouble sleeping.
Lumryz is a slightly different formulation of sodium oxybate, and Jazz challenged Avadel in court over patent infringement, but ultimately it seems the company lost a key patent dispute this year, and Lumryz, conditionally approved in July last year, has now received its full approval from the FDA.
Jazz will report its Q123 earnings in a couple of days, and it will certainly be interesting to see what management says in relation to Lumryz, whether 2023 guidance will be adjusted as a result of its full approval and the patent dispute loss, and whether the $5bn revenues in 2025 goal is still achievable.
One advantage Xywav may have is its lower sodium content, and another is its entrenched market position – 18k patients were using the therapy during 4Q22 – but even so, I would be a little sceptical about Xyrem / Xywav being a reliable $2bn per annum franchise going forward.
As mentioned, with the oncology franchise not forecast to grow meaningfully over the next couple of years, and with the sodium oxybate franchise under threat from a drug with a superior dosing regimen, which is likely to have the same price point – ~$212k per annum – there seems to be a lot of pressure on Epidiolex to keep growing and for some new pipeline products to be launched.
There's a potential problem with Epidiolex however and it's a familiar one for Jazz – patent expiry and generic threats. A statement in the 2022 10K submission reads:
In the future, we expect Epidiolex to face competition from generic cannabinoids. In November and December 2022, we received notices from various ANDA filers that they have each filed with FDA an ANDA for a generic version of Epidiolex (cannabidiol) oral solution. In January 2023, we filed patent infringement suits against these ANDA filers. As a result of these lawsuits, a stay of approval of up to 30 months will be imposed by FDA on these ANDA filers.
Pipeline Prospects
Epidiolex being potentially subject to generic competition is another headache for Jazz and the court cases will burn cash, although Jazz does not have too much to worry about on the cash front – reporting $2.6bn of current assets as of Q422. There's nearly $5.7bn of long-term debt to pay down, however, which will substantially eat into profits.
Zepzelca is a drug that management believes could work as a first line therapy in SCLC, which could double the market opportunity from ~17k patients, to ~30k, and clearly the performance of Rylaze since launch has been very strong, although it seems that management does not necessarily believe either of these drugs can drive blockbuster sales long term.
Turning to the pipeline, then, and we can see there are three new neuroscience candidates in the pipeline, and an intriguing catalyst arriving later this year when JZP150 reports Phase 2 PTSD data. This is another asset acquired from the GW Pharma deal, and given there are only two approved drugs to treat PTSD – Zoloft, and Paxil – and PTSD is a multi-billion dollar market, apparently, expected to be worth either ~3bn or $26bn by the end of the decade depending on who you believe, there may be some good >$500m per annual, revenue potential in play here.
Meanwhile, Zanidatamab – a drug Jazz paid Zymeworks $325m to acquire rights to, and which could see Jazz ultimately pay its new partner up to $1.8bn – achieved an 84% Overall Survival ("OS") rate in its pivotal study in patients with advanced HER2-expressing metastatic gastroesophageal adenocarcinoma (GEA), with a 79% Overall Response Rate ("ORR"). This is a common cancer therefore the revenue opportunity could be a blockbuster one, although Merck's near $20bn per annum selling immune checkpoint inhibitor, and Bristol Myers Squibb's Opdivo – which uses a similar mechanism of action to Keytruda – will provide some stiff competition in these markets.
Concluding Thoughts – Is Jazz Pharmaceuticals a Buy, Sell, or Hold?
In my view, after reviewing some of Jazz Pharmaceuticals' strengths, weaknesses, opportunities and threats, and management's goals, I would lean towards Jazz being a "HOLD."
The reasons for this are quite straightforward. Jazz is a commercial stage pharma with a proven track record for generating multi-billion dollar revenues per annum. It's headquartered in Ireland and benefits from lower taxation. It has an Oxybate franchise that generates nearly $2bn per annum, a growing oncology franchise, strong pipeline, and perhaps most importantly, management appears to have a good eye for a bargain M&A deal, with its original acquisition of Orphan Biotech proving a masterstroke, and the more recent deal for GW Pharma and license agreement for Zanidatamab also looking like good business.
Balanced against this however are the ever-growing patent issues – the potential disruption of an oxybate franchise despite the early success of Xywav, and the threat to Epidiolex, flat growth in oncology – although a Zanidatamab approval could change that – a lack of bottom line profitability, >$5b of debt, no dividend, and a likely change to Irish tax laws increasing the rate Jazz must pay.
Looking at Jazz's market valuation, I would say the risks have been factored into the current share price, while the opportunities have not. In theory, that would make me bullish on Jazz stock, but my advice would be not to invest before the Q123 earnings are released in two days' time.
First of all, the approval of Avadel's Lumryz may lead to management adjusting sales guidance downward (although it's unlikely to be by much given Lumryz has not been on the market very long), and will be a key focus of discussion.
Second, I'm a little confused by management's drive to reach $5bn in revenues by 2025, since it doesn't me any information on what may happen after 2025 – my guess would be that revenues may start shrinking again, and $5bn revenues could be a high water mark.
Jazz stock is not typically volatile – it has traded within a range of $120 – $170 for the past couple of years – and I do think that $8.85bn is a low valuation for a company generating >$3.5bn in annual sales, so my guess is that the stock price challenge $150 once there's a little more clarity around the patent expiries and rivalry between Xywav and Lumryz.
Personally, since I like the other pipeline assets and suspect the oncology sales forecasts may be a little low, some patent controversy driving the share price down below $120 would make me think about buying some shares, provide the implication of the patent issues are not too severe. I hope to find out more when tuning into management's call with analysts in a couple of days.